Custom Mustangs at SEMA 2017
Custom Mustangs at SEMA 2017
The Specialty Equipment Market Association (SEMA) show in Las Vegas is coming up. Every year, it provides an opportunity for aftermarket manufacturers to showcase the best auto modifications. At this year's show, the Ford Performance division will be displaying several custom Mustangs. And each is fully modified from the tires to the motor oil. In addition to being awesome, the custom vehicles help bring the exceptional craftsmanship and design of smaller businesses to the masses. Here is a quick breakdown of the best examples.
2018 Ford Mustang Convertible – MAD Industries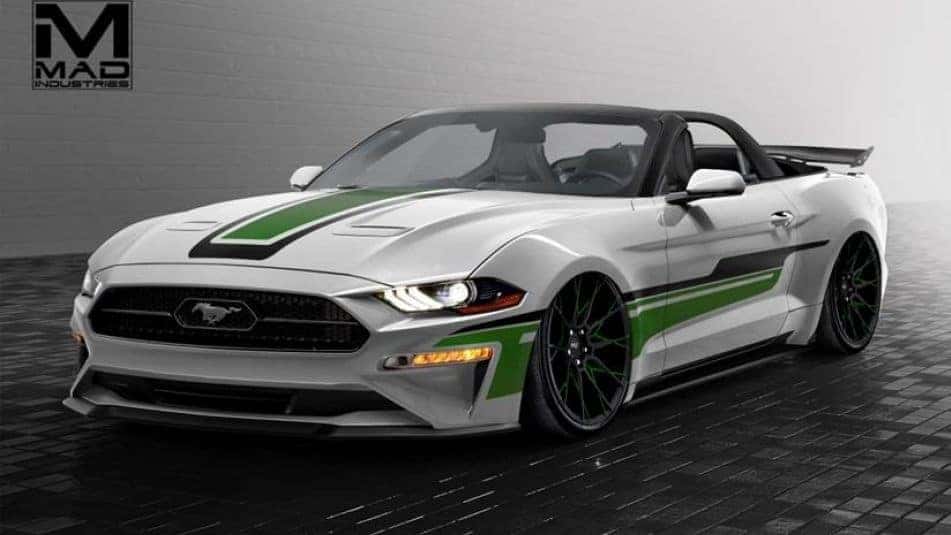 This white, green, and black Mustang Convertible from MAD industries may not be to everyone's tastes, but it certainly makes a statement. It takes the standard 2.3L EcoBoost engine and adds performance equipment like a Borla Exhaust, Ford Performance cold-air intake, and an AL Priority Quint laser defense system to help jam speed-measuring devices. Zoom zoom.
Cosmetic enhancements, of which there are many, include the 20" Niche Road Wheels, 3M Film graphics, and an APR industries full lower splitter package. Inside, you'll find Braum elite-x series racing seats. The extra comfort is necessary if you plan on jamming police radar and showing them the APR Carbon Fiber Drag Wing.
Other notable equipment includes:
BASF custom paint products
Classic Design Concepts light bar
Eibach Pro-R2 double adjustable coilovers
ROUSH 729 Mustang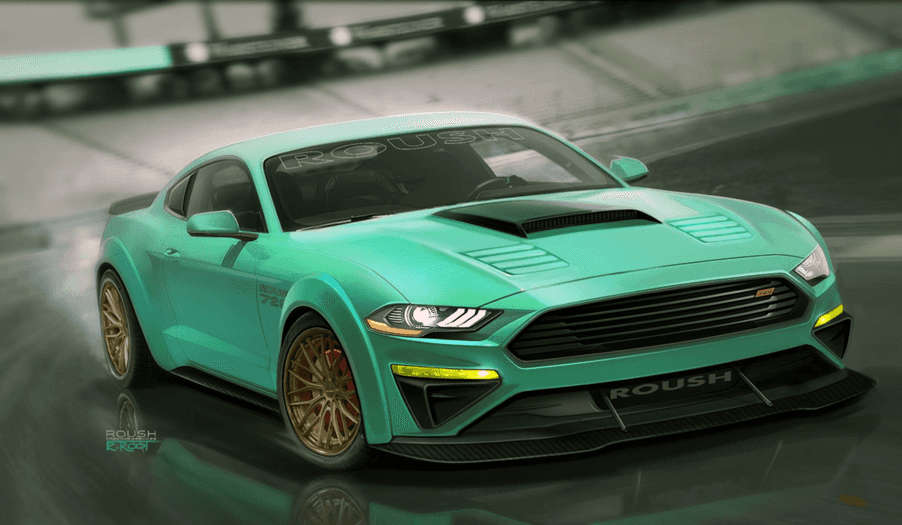 Maybe I'm just in a good mood. Or maybe I've gone crazy staring at custom Mustangs. Either way, I think this wide-body ROUSH 729 Mustang with Grabber Green paint, gold, 20" Vossen wheels (with red Brembo brakes glowing behind); and gratuitous carbon fibre accents looks awesome. You may not be able to tell, but a regular 2018 Mustang GT with a 5.0L TiVCT V8 engine is hiding beneath the body kits and flash paint.
But that's not to say that the powertrain is standard. Seeing as this is a ROUSH vehicle, there's a legendary ROUSH supercharger. They've also included a full ROUSH body kit with functional window scoops, heat extractors, splitter, hood struts, and more. Other ROUSH parts include a cold-air intake, active quad-tip exhaust, and an air gobbler ram air with Stratasys function hood scoop. I don't know what that one does, and I suspect it might be made up, but it sounds cool.
2018 Ford Mustang EcoBoost – DRAGG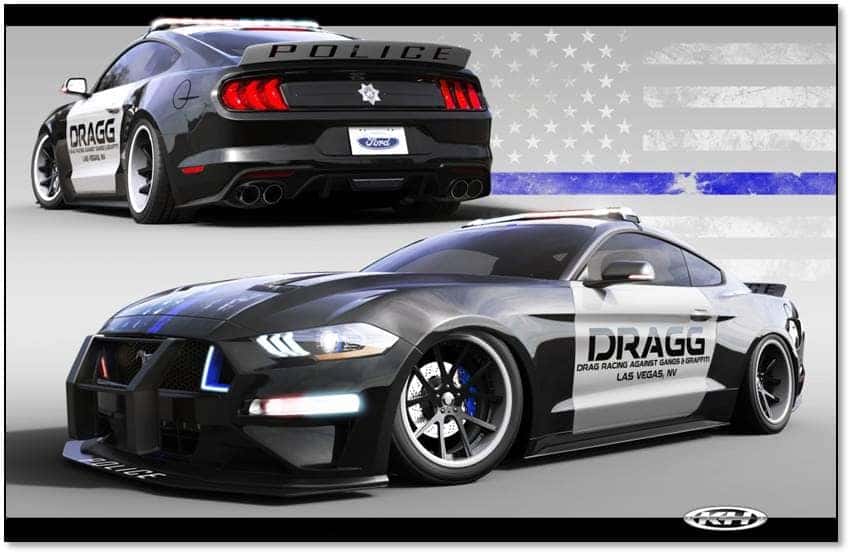 This one is the coolest of the bunch. Drag Racing Against Gangs and Graffiti (DRAGG), which apparently exists (personally, I think they might be spreading themselves thin by taking on gangs and graffiti), has created an aptly guardian-themed police vehicle. They started with the bones of a 2018 Ford Mustang EcoBoost and then went a bit… constabulary.
To help make this thing look like a Blade Runner police car, DRAGG started with Commercial Auto Body custom paint. Then, they added some Federal Signal emergency lighting by West Coast Lights and Siren. Finally, they installed some graphics from the charmingly named Ron's Signs. While those modifications might be necessary on any police car, the 20" Velgen wheels, Petty's Garage custom rear spoiler, and custom front splitter might not be.
Finally, DRAGG's EcoBoost Mustang includes all of the "go-fast" gear necessary for the occasional high-speed pursuit.
Wilwood six-piston high-performance brakes
Ford Performance by Borla exhaust
Air Raid intake
Jet-Hot high-performance coating
Which of these custom Mustangs would you take if money (and legality) was no option?