The Ford Edge ST: The Edgy Edge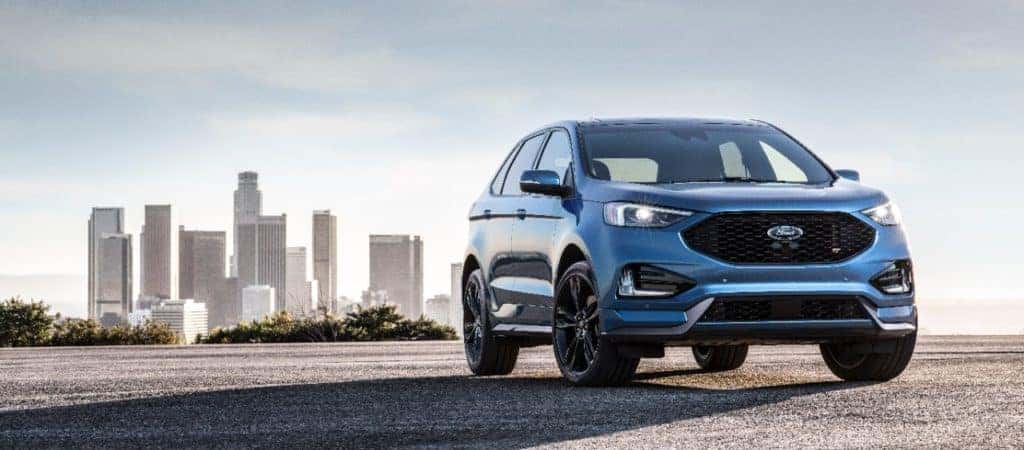 Ford just took the surprising step of announcing the 2019 Edge ST as a replacement for the Edge Sport. It's surprising first because automakers have a hard time of keeping secrets these days. But it's also surprising because Ford has never put that performance badge on an SUV before. They're taking a generally well mannered crossover usually preferred by small families and cranking up the horsepower. The announcement raises many of questions, chief among which are "Is it awesome?" and "Do I need it?"
The 2019 Ford Edge ST
With performance models of vehicles that generally aren't built with high performance in mind, a good deal of skepticism is warranted. If you're buying a Ford Edge, you probably want a flexible, comfortable vehicle for you and your family. You probably do not have ambitions about setting the Autobahn alight. But I'm going to ask you to check your cynicism for a minute because it seems like the Edge ST will have the specifications to make it worthy of the ST badge
Under the hood, a 2.7-litre EcoBoost V6 engine will be cranking out 335 horsepower and 380 lb-ft of torque, increases of 20 and 30 respectively over the current Edge Sport. Importantly, the suspension will receive an upgrade, too. The regular Edge suspension is tuned to be a bit gentle and loose which is great for the circumnavigation of ice and potholes, but not so great for a crossover with racing ambitions. Unsurprisingly, you'll get all-wheel drive and Ford's smooth eight-speed transmission, plus a ton of edgy (whatever) aesthetic modifications.
The current Edge Sport carries an MSRP of $46,049, so it wouldn't be surprising to see the ST variant retailing closer to the $50,000 mark. Obviously, that's a lot of money, which leads to the natural question, "Does the world need a Ford Edge ST?"
Vindication for the Rights of the Edgy Edge
Does the world need deep fried Mars bars, coffee cups that remain the perfect temperature, or reality tv shows about every blue-collar career you can think of? No, goddamnit. The world doesn't need any of those things, but it sure loves them. And people love hot hatches like the Focus ST, Fiesta ST, Golf GTI, and Civic Type R, too.
A hot hatch offers the fun of sports cars and the year-round convenience of commuter cars. We can appropriate the logic to defend the Edge. Think about it – it's just a giant hot hatch that lives a bit closer toward the realm of convenience than sport. And that's undeniably awesome. So, have a little fun taking the kids to school. And, unlike the Mars bar, you don't even have to feel guilty afterwards.
Ford Edge Safety
That's because the Ford Edge is one of the safest crossovers on the road. Of course, it has a five-star safety and an advanced array of airbags to shield you and your passengers in serious collisions. More impressively, Ford has packed it with all the latest advanced safety technology to ensure you don't need those airbags. BLIS with cross traffic alert helps you monitor vehicles in your blind spots, so you don't make any ill-advised lane changes. Available Adaptive Cruise Control automatically keeps you a safe distance from forward traffic when cruising on the highway. When traffic clears, you resume your preset cruising speed. And, in the event of a sudden obstacle, the Edge applies its brakes automatically.
Are you excited for the Ford Edge ST, or do you think high-performance vehicles and mid-size crossovers are mutually exclusive categories?