Ford Safety: Building a Connected City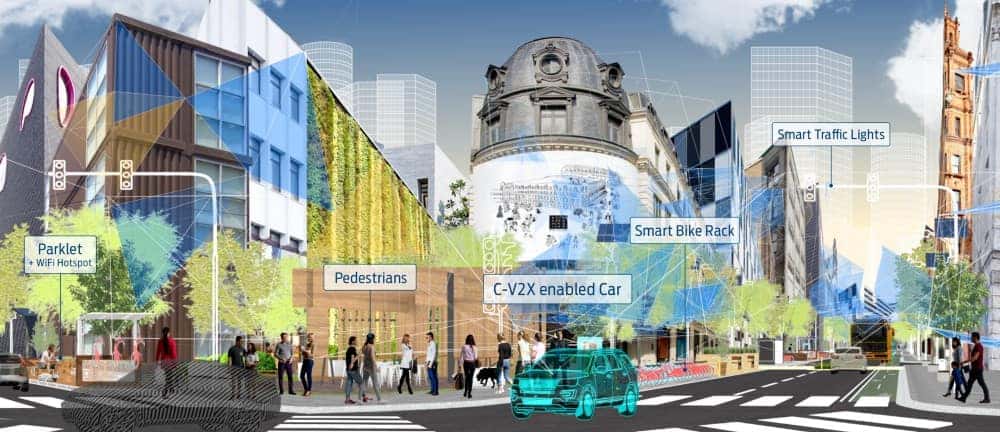 Hold onto your… steering wheels! Ford safety has always led the industry in terms of crash mitigation, rollover protection, etc… But now Ford thinks we can avoid accidents entirely. In a recent post on Medium, Ford detailed its plans to build a connected city. It views every part of a city, including cars and pedestrians, as cells in a system. The system is capable of being finely tuned, but its parts"need to act in the context of this system with all the other components, speaking a common language and working together." And it starts with V2V.
V2V
In the simplest terms, V2V, or vehicle-to-vehicle communication, is two cars talking to one another. Here's an example of how the technology might work: Car X encounters an obstacle on the road and brakes. Car X automatically relays that information to Car Y behind it, and Y brakes automatically before its driver can even process X's brake lights. That's a very simple example, but a powerful one. Theoretically, a fully realised V2V network will allows cars to tell one another about pedestrians, patches of ice, potholes, and more. That sounds very exciting, but it arguably isn't good enough.
C-V2X
Ford doesn't just want vehicles to communicate with vehicles. That's why it's in the midst of developing C-V2X (the "C" is for cellular and "X" is for everything): "C-V2X […] enables various technologies and applications in a city — vehicles, stoplights, signs, cyclists and pedestrian devices — to speak to each other and share information." Self-driving cars could be instantly notified about an accident further down a roadway, and take the first available exit, ending major traffic jams before they begin.
Getting all these systems to play nicely together seems like a tall order, especially when civic infrastructure budgets barely contain enough money to keep major roadways in passable condition. Of course, there's a large incentive for businesses like Ford to help implement their interconnected technology affordably. It's no secret that businesses try to create closed ecosystems with products that are incompatible with products from other ecosystems (hello, Apple). But the Blue Oval is taking that strategy further.
The Ford Connected City
Instead of increasing the adoption rate of its services by targeting individual consumers, Ford is targeting cities. If the city in which you live has already adopted infrastructural technology co-developed by Ford, you can assume a Ford vehicle will communicate the most effectively with that ecosystem. In other words, you'll belong to the brand's ecosystem by virtue of driving there.
Okay, okay. I know that's a lot of lingo and speculation. You're probably wondering what this means for you right now. Believe it or not, C-V2X is going to hit Ford test vehicles this year, and enter commercial units in 2019. How can we possibly be that close to living in the world of Minority Report? Well, the average Ford is much smarter than you think.
C-V2X relies on simple chips. Every 4G LTE connected Ford vehicle has one and can be updated to work with future smart cities. And most new Fords have all the sensors and cameras to provide the information worth transmitting.
Advanced Ford Safety Features
Just take a look at the 2018 Ford Explorer. It already possesses most of the sensors and cameras necessary for automation. Take BLIS with Cross-Traffic Alert for example. It uses radar sensors to track vehicles moving in your blindspots. It also has Adaptive Cruise Control with Brake Support which automatically adjusts your cruising speed to keep you a safe distance from forward traffic. Then there's automatic parking, advanced lane keeping technology, and more.
These features are obviously valuable to you for personal safety. And when the information from all those cameras and sensors can be communicated with other vehicles, and the city itself, their value will be increased exponentially.
To learn more about advanced Ford safety features, and 4G LTE WiFi enabled Fords, stop by Capital Ford Lincoln today and talk to our highly knowledgeable staff.