Ford Troller T4: Inspiration for the 2020 Ford Bronco?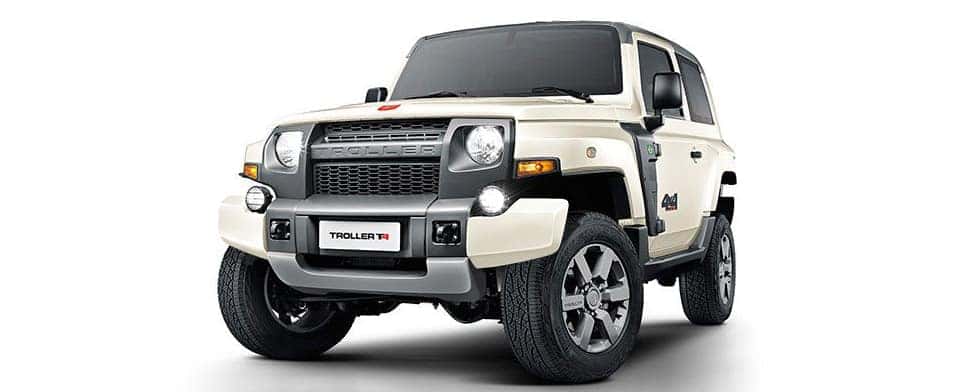 I'll forgive you for not knowing that Ford owns a Brazilian automaker called Troller. And I'll forgive you for not know that the Ford Troller T4 is a jungle trawling answer to the Jeep Wrangler. Well, it's basically Ford's answer to the Jeep Wrangler, and it's only sold in Brazil. However, a recent (dubious) source has indicated that the Ford Troller is the inspirational basis for the 2020 Bronco. This wouldn't be unprecedented, considering the Ranger and EcoSport have both been introduced to North America after selling in foreign markets.

Ford Troller T4
The first thing you'll notice about the Ford Troller T4 is that it looks a lot like the Jeep Wrangler. The boxy little SUV has good ground clearance, similar proportions, and a comparable headlight setup. Minor details like side view mirrors and side steps strike more than a coincidental resemblance with the JK, as well. The greatest difference is the amount of cladding, which helps the Ford Troller T4 seem a little more modern and "fun." These design features are more reminiscent of the Bronco concept released in 2004.
It has a 3.2L diesel engine with 200 horsepower and huge torque for what I must assume are jungle adventures. It comes with a manual transmission like the non-denominational auto spirit intended. Obviously, it has shift on the fly 4WD. Additionally, drivers can dunk the little monster in 800 mm of water without destroying it, and you can conquer 45-degree slopes. The standard tires are Pirelli Scorpion ATR for a good balance of on and off-road performance.
The interior of the Ford Troller T4 is pretty Spartan. Because of its intended use, you can wash down the seats and floor like a cop car after a hard day in the jungle. There's a panel for you to install navigation equipment, and the gauges are basic. The T4 manages entertainment with a little Kenwood LCD sound system that would look right at home in a modified '02 Civic. Needless to say, if the Ford Troller was to be sold in North America, its interior would require a massive overhaul.
2020 Ford Bronco
Ostensibly utilitarian vehicles like pickups and SUVs are now used more for commuting than actual work. So, the expectations for interior comfort have increased greatly. For example, the 2019 RAM 1500 will introduce a gratuitous 12-inch touchscreen. And even the base model F-150 puts the Ford Troller to shame. Consequently, it seems unlikely the 2020 Bronco would borrow anything more than the exterior design (excluding the use of two doors) and rebellious spirit from the Ford Troller T4. Of course, this is largely speculative.
What we do know is that the Bronco is sharing a platform with the 2019 Ford Ranger. So, it's likely that they'll also share powertrains. The Ranger gets a 2.3L EcoBoost with auto stop/start and a 10-speed automatic transmission. It wouldn't be surprising to see the Bronco also get a diesel option and an EcoBoost V6, and it would certainly be welcome news to prospective buyers.
North America Needs a Ford Troller
For too long, the Jeep Wrangler has run unopposed in the "Boxy Off-Roader" category. And while the Brazilian Ford Troller T4 has a few faults, its fun styling and performance-first attitude make it a worthy muse for Ford's Bronco development team. Balancing the modern demands of SUV buyers (mass market appeal) with Bronco heritage and off-road nous will be a challenge. But Ford executive Raj Nair assures us his team will deliver: "We have an idea of what a Bronco should be, and we're going to be looking forward to bringing that to our customers."
Learn More About the 2020 Ford Bronco with Capital Ford Winnipeg!
So, what do you think? Can you imagine yourself cruising the streets of Winnipeg or crushing nearby off-road trails in a vehicle like the Ford Troller? For continued updates on the 2020 Ford Bronco, be sure to keep up with the Capital Ford Winnipeg blog! If you're itching to head off-road and just can't wait for the Bronco, why not take a look at a new Ford Ranger or new F-150?
More from Capital Ford Winnipeg
Meet Co-Pilot360 The Co-Pilot360 package includes six core technologies like automatic emergency braking, blind-spot monitors, reverse camera, lane keep assist, and auto high beams. Ford debuted its package of advanced driver assistance systems (ADAS) with the release of the 2019 Ford Edge. Since then, Ford has expanded the number of models that get the package- the…

During these unprecedented times, Automotive Sales and Service have been deemed an essential service in Manitoba. In our store, we have been diligent in implementing safety measures to protect our staff and our valued customers. We have increased cleaning down of touchpoints in the store several times a day with a 10% bleach mixture, put…

The 2020 Ford Explorer is a terrific choice for City Centre-area families or anyone who leads an active lifestyle. Along with its rugged exterior styling and impressive performance capabilities, it is the Ford Explorer interior that has made this SUV so popular among drivers from Winnipeg to Garden City and beyond. Explore the Ford Explorer interior features,…