Ford Scheduled Maintenance Guide

---
Whether you have a new or used Ford model, it's important to be diligent about regular maintenance, in order to keep your car, truck, or SUV always running at peak performance levels on Winnipeg area roads. Standard Ford service ranges from routine oil changes to spark plug replacements, and all maintenance depends on how many kilometers you have on the odometer. Check out this Ford scheduled maintenance guide from Capital Ford Winnipeg to know what service is needed and when. Not using your car currently? We can help with that, too!
Ford Service Intervals
Under normal driving conditions, Winnipeg drivers should bring their vehicles in for oil changes every 12,000 to 16,000 kilometers. But there are certain driving conditions that will require more frequent oil changes. If you do moderate to heavy towing, drive in mountainous or off-road conditions, or do any extended idling or hot or cold operation, you'll need an oil change every 8,000 to 11,999 kilometers. For those doing maximum load/towing, or extreme hot or cold operation, the interval is 4,000-7,999 kilometers.
During your oil change service our certified technicians will also:
Replace the engine air filter
Replace the cabin filter
Inspect and rotate the tires
Inspect the brakes
Check the engine cooling system
Check the transmission fluid
There are some additional basic maintenance checks that should be performed regularly. These include;
Monthly Checks
Engine oil level
See that all interior and exterior lights are working properly
Tire pressure and wear
Windshield wiper fluid
Every Six Months
Check battery connections and clean in necessary
Make sure that body and door drain holes are clear of obstructions
Check cooling system fluid level
Check door weatherstripping for wear and lubricate if needed
Make sure that hinges, latches, and outside locks are lubricated and working properly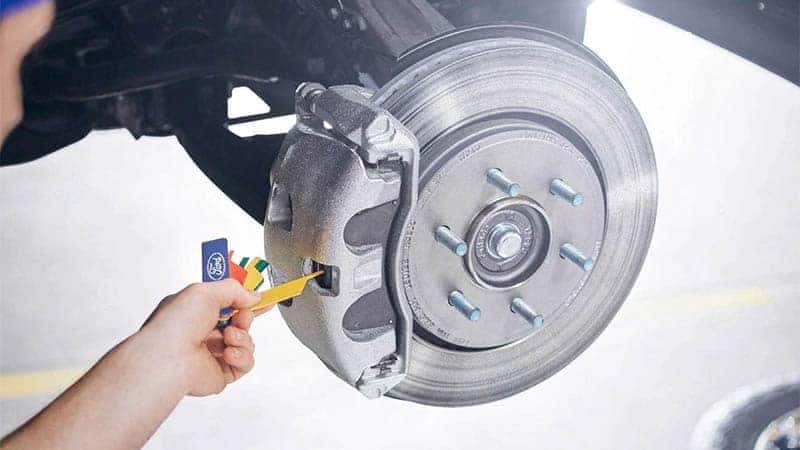 You can perform these checks yourself, or if you prefer, our service techs can handle them for you.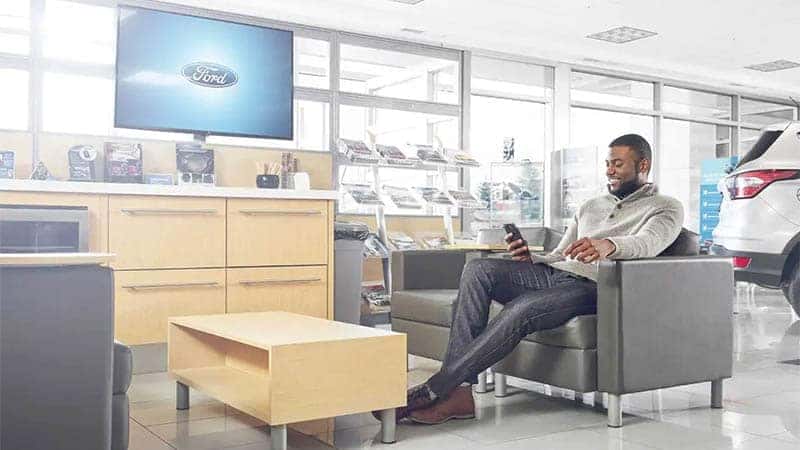 Ford Service Tips
When it comes to Ford service, keep these tips in mind as you go through the Ford scheduled maintenance guide:
Service intervals vary depending on your vehicle's model year, the odometer reading, driving conditions, and more. Check your owner's manual for the most accurate information.
Check the service specials at Capital Ford Winnipeg to save money on these routine maintenance tasks.
If you suspect there is something wrong with your vehicle, don't wait until your next maintenance visit to have it checked out. Bring it in immediately to avoid costly repairs.
Schedule Your Ford Maintenance with Capital Ford Winnipeg
Is it time for your next Ford scheduled maintenance? If so, turn to the experienced technicians at Capital Ford Winnipeg. Our team uses only genuine Ford parts to keep your vehicle functioning as it was meant to when it was built. We are also happy to offers service tips on everything from how to program a Ford key fob to how to keep an used car healthy. Connect with our team to make an appointment at our Service Center or explore our Ford extended warranty options!
More From Capital Ford Winnipeg
Summer means longer days, barbeques, and pools. It's not likely that car maintenance would be the first thing on your mind, but it's important to remember that summer's extreme temperatures can wreak havoc on your car. Make sure your car is ready for summer fun by following these tips and giving it a little TLC….

Buying a car has never been easier with Capital Ford Winnipeg's new system, Online Shopper! With this awesome tool, you can find the right vehicle, choose your own payment, get an estimate on your trade-in, and schedule home delivery or an at-home test-drive— completely online! This new technology puts you in complete control of your…

F-150 InventoryContact Us What is the right 2020 Ford F-150 truck bed size to suit your driving needs around City Centre? The decision depends on how you will be using your truck. If you'll be hauling equipment and materials to the worksite, you'll want a longer bed. Planning on taking the family out for a…